The Lab School
Contact: 604-261-0863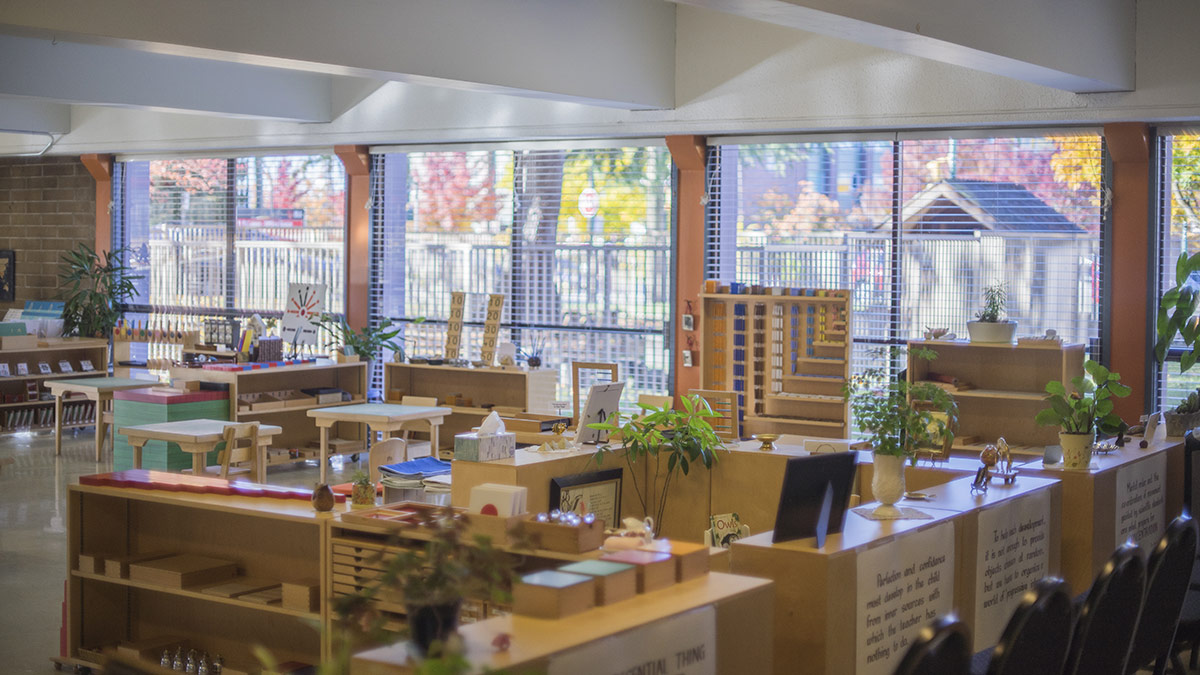 About our Children's Community
The Montessori Children's Community opened September 5, 2006 in the heart of the Cambie/Oakridge area in Vancouver.
The Montessori Children's Community is committed to supporting the wholesome growth and development of the human
personality during the formative years of childhood. This is through the work of Dr. Maria Montessori. In this way,
we can assist the child, not only in his natural quest for knowledge and independence, but also in his task of
creating himself and in striving to realize his potential. This embodies Dr. Montessori's principle of education as
an aid to life.
The Montessori Training Centre of British Columbia has been granted special permission to develop a Montessori prepared environment for children 3 to 6+ years of age following the criteria required by the Association Montessori Internationale for school recognition. Currently some B.C. regulations restrict Montessori schools from following such criteria.
The Montessori Children's Community is a Pilot Project for British Columbia. The objectives of this Project are to establish a lab class to demonstrate the excellent quality A.M.I. criteria promote and secondly, by working in collaboration with the Community Care Licensing Office in Vancouver, to define a procedure that can be followed by other Montessori schools in B.C. which choose to operate according to A.M.I. requirements.
Research for the Pilot Project
To meet the objectives of the Pilot Project, we have been required to provide current research. Parents registering
their children in this programme acknowledge this and agree that current research practices will be implemented,
such as videos, photographs and documentation all within recognized privacy boundaries. All information and
documentation collected will be used specifically for research.
We are most excited to be located at Youville Residence – a seniors' home operated by Providence Health Centre. The
Youville coordinators have welcomed us enthusiastically. Recently they embraced the Eden Philosophy, one of the
guiding principles being: " An Elder-centered community commits to creating a Human Habitat where life revolves
around close and continuing contact with plants, animals and children. It is these relationships that provide the
young and old alike with a pathway to a life worth living." As our program has developed, we have found ways to
positively affect the lives of the seniors. This adds a wonderful dimension to our children's program as well as to
the lives of the residents at Youville.
The Head of School and Montessori Directress
Gilda Bonnet has more than 35 years' experience directing a Montessori class for children between the ages of 3 and 6 years including a model school she owned and operated in Puerto Rico.  Gilda joined the staff at the MTCBC in 2001 and was hired by the MTCBC to work as the Guide at the Montessori' Children's Community from September 2006 to June 2010.  Since then, she has continued as an Auxiliary Trainer of MTCBC and the Head of School at the MCC.  We are so pleased Gilda has rejoined the Montessori Children's Community as The Guide as of September 2017.
The Assistant to the Guide
We are very pleased that Rahmeh Nubani, who completed our Assistants Course in 2016, has joined us. Rahmeh and her husband immigrated to Canada 12 years ago from Amman, Jordan.  They have a young family of three children, 11, 10, and 4 years old and chose to send them to a local Montessori school.  Before moving to Canada, Rahmeh obtained a degree in Computer Programming and worked for several years at a well know private school in Jordan as both an administrator and teacher.  Since 2016, she has been volunteering as a Fundraising Coordinator at the Parent Advisory Committee in her children's school.  She enjoyed working with the children and their families at the MCC and is looking forward to working with the children again this year!
Parent Study Programme
The Montessori Children's Community gives parents the opportunity to participate in an interesting and
dynamic Parent Study programme which harmonizes developmental practices in the home and the school. This
will be presented by Eduardo Cuevas, the Director of Training of the Montessori Training Centre of BC,
and staff. As well as his many years training Montessori teachers, Eduardo has extensive experience as a
Montessori teacher, school administrator and Director of Parent Education programmes. All parents
enrolling their child at the MCC are required to attend these monthly programmes.
As part of the students' training, the MTC of BC uses many of the Montessori schools in the Lower
Mainland for observation and practice teaching. The Montessori Children's Community will be one of
the sites used by the training centre. Clear, strict guidelines are given to observers, as it is
important this is done without interacting with the children. The ability to guide children's
development based on keen observation of children's activity is an essential quality of a Montessori
teacher. The Montessori Children's Community will also be used as a Practicum site for MTC of BC
students.