Montessori Training Centre of BC
A Place of Education for adults on the nature of childhood
AMI Assistants (Montessori Birth – 3)
Course Cancelled – Will be scheduled at a later date
The intention of the Assistants Course is to help interested adults become able assistants in a Montessori Nido or Infant Community.
Certificate granted: A.M.I. Assistant Certificate
The Montessori Training Centre of British Columbia (MTCBC) works in affiliation with the Association Montessori Internationale. The courses offered must meet rigorous standards, in both content and teaching staff. The Certificate awarded by the MTCBC is in great demand by Montessori Schools both nationally and internationally for the position of A to I Assistant. Individuals must enquire what local requirements set out by government regulatory bodies must also be met when applying for Assistant positions.
Upon successful completion of this course, one is eligible for an ECE Assistants Certificate in the province of BC.
AMI A to I Director of Training: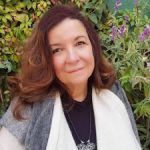 Maria Teresa Vidales
An AMI Director of Training at the Assistants to Infancy Level. She has directed courses in Dallas, Texas, China and Australia. She also co-directed the Assistants to Infancy Course in Japan and San Diego, and collaborated with the course in Denver.  Maria Teresa serves as AMI examiner, consultant, lecturer, and workshop leader. Maria Teresa also holds the AMI Primary diploma. She has operated a school in Mexico since 1989, and has been working with children close to thirty years. Chacha also served on the AMI Board of Directors.  We are thrilled to be offering a 5th course under Chacha Vidales' directorship.
Assistants to Infancy Campus, a satellite Campus of the MTCBC
1410 Nanton Avenue, Vancouver, BC  V6H 2E2
*This program does not require approval by the Private Training Institutions Branch (PTIB) of the Ministry of Advanced Education, Skills & Training. As such, PTIB did not review this program.