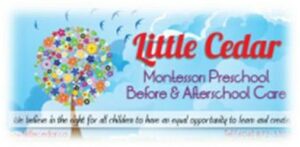 1530E. 22nd Ave, Vancouver B.C. V5N 2P1
Tel: (604) 872-3303
Email: info@littlecedar.ca
Web: www.littlecedar.ca
Little Cedar Montessori Preschool is looking for a Montessori Assistant with minimum 2 years' experiment working with children ages 3-5. You must be committed and caring in aiding the development of the children.
Little Cedar strives to offer an environment where the children feel free to explore, develop a love for learning and learn at their own pace. Our program is geared to entice young minds and fosters curiosity according to the Montessori pedagogy.
Qualifications: Must have ECEA/AMI Assistant Diploma or ECE License
Other Qualifications Required:
Required minimum 2 years' experience working with children ages 3-5 (preferable)
Children First Aid and CPR Certificate
Criminal Record Review
Immunization History
2 References / 1 reference letter
Key Responsibilities:
Help head teacher to assist children with washroom, children self-care such as shoes and jacket
Set up & clean up the classroom
Singing songs, reading stories and model appropriate manners in class
Commitment to ongoing professional development
Employment Terms: Full-Time / Permanent
Position Start Date: July 2022
Hours of Work: 40 hours per week
Salary & Benefits: Pay scale based on experience and education.
Please include your resume, documents supporting accreditation, and a cover letter.
Contact: info@littlecedar.ca