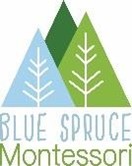 Blue Spruce Montessori – A.M.I. Montessori Assistant Blue Spruce Montessori was established in 1997 and operated for over 21 years in the Richmond community. Debbie Marette, owner/administrator, graduated in 1994 with a primary A.M.I diploma and is dedicated to providing a Montessori program that closely adheres to the Montessori principles that Dr. Maria Montessori formulated. Blue Spruce Montessori reopened in Vancouver, in a brandnew custom-built facility and will have the capacity for 22 students. We are searching for a Montessori assistant, that has a genuine passion and interest in the developing child and a strong desire to connect with families and the larger community, to join our school. An assistant that genuinely strives to develop each individual child's whole self, and instil a lifelong love of learning through observation, creativity, and nurturing.
Job Title: A.M.I. Montessori Assistant
Name of Facility: Blue Spruce Montessori
Qualifications: A.M.I. Assistant Course (in training)/E.C.E.A certificate
Other Qualifications: Children First Aid and CPR Certificate / Criminal Record Review / Immunization History / 3 Reference letters related to the field
Qualities:
Experience working with children ages 2.5 – 6 years, an asset but not necessary.
Demonstrated ability to connect well with the young child.
Excellent planning, organizational and communication skills both orally and written.
An ability to guide groups of children of varying ages, needs and abilities.
Ability to multitask, keep calm under pressure, and treat everyone with love and respect.
Patience and excellent observational, and diagnostic skills.
Job Responsibilities:
Establishing rapport and building relationships with students and families based on trust.
Assist with preparation and maintenance of the prepared environment, creating a safe, clean, stimulating environment where all children feel safe and valued.
Demonstrate appropriate child guidance techniques that are respectful to the child and help develop self-esteem, independence, good choice making and trust.
To be a positive role model, instilling good values like honesty, accountability, understanding, tolerance, respect, love, and kindness.
Observing, guiding, supervising, and assessing children in the prepared environment.
Participating in school activities, trips, and events.
Employment Terms: Full-Time / Permanent
Position Start Date: ASAP
Hours of Work: 40 hours per week
Salary & Benefits: Competitive salary commensurate with qualifications and experience Paid vacation / Individual health benefits / Daily hot lunch / Professional development
Please email resume and cover letter to Debbie G. Marette at: info@bluesprucemontessori.com For more information about Blue Spruce, please visit: www.bluesprucemontessori.com